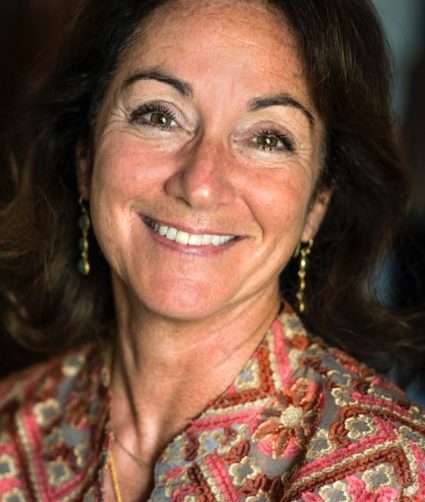 "We live in a time of exponential change," says Barefoot College's CEO, Meagan Fallone.
Published on
Share this post on :
As Meagan Fallone puts it so rightfully: "Barefoot College has and will always be, a movement for social justice." With that in mind, and still trying to deliver on their high commitment to concrete results among the communities they support, we wanted to have a moment of reflection with one CEO who has to deliver impact, think system change, and inspire others. Here is why we believe it was an excellent idea to have a conversation with Meagan Fallone, Barefoot College's CEO.

by Jean-Christophe Nothias | Editor-in-chief, NGO Advisor
Jean-Christophe NOTHIAS (JCN): As the CEO of BAREFOOT COLLEGE, how would you define modernity?
Meagan Fallone (Barefoot College): Modernity, for me it's an approach and a philosophy. It means a constant redefinition and reevaluation of where you sit today in relationship with the future. It's about thinking out in front and ahead, to the next thing needed – the next iteration of yourself or what you are working on – while delivering 100% in the present. Instinctively putting together inputs that are coming at you in real time, building them into a picture you can see and feel coming in the distance.
This means that, on some level, you will always be criticized, misunderstood, and doubted.
Being totally secure in who you are and what your strength is, simultaneously comfortable with an ever changing landscape, the unknown, the "yet or next" to come. Willing to explore it and being able to bring others along with you in that place of relative 'insecurity'… I believe this is how you create modern organizations, modern thinking, and modern solutions.
A brilliant friend recently made me think about the concept of exponential change and how we live in a time of this phenomenon. To somehow balance exponential vision with careful thinking and nuance. It seems to me this is the definition of modernity we now must embrace.
JCN: BAREFOOT COLLEGE is a 'poster boy' to many NGOs. How do you explain that recognition?
Meagan Fallone: Mahatma Gandhi taught the world that movements are always more viral, transformative, sustainable and powerful than individuals or even organisations. 
Barefoot College has always seen itself as a voice and conduit for those for whom the world has largely underestimated. The rural poor, who may not have had formal education, yet whose wisdom, skills and knowledge have such value and hold the answers if one but listens. Social justice is not an idea one adopts – it's a way of life and a system of belief that is immovable. Beyond anything we deliver tangibly by way of programs, Barefoot College has and will always be, a movement for social justice.
I think that resonates with people and inspires them to hope, to replicate our values in their own ways seeing themselves as owning part of the Barefoot Approach. This giving away of an idea and the resulting inclusion is at the heart of why people believe in us.
JCN: Hogan Lovells has been a partner with Barefoot College for three years. What do you think each partner has learnt from this other one?
Meagan Fallone: Hogan Lovells, along with Apple, Oracle, Goldman Sachs, Enel, Phillips, and all our private sector partners, have played such a critical role in the last 8 years of our growth, helping us as an organization to scale, to help us develop stronger professional practice and better communications, helped us to see where financial investment was needed into an organisation who already knew how to deliver well in "last mile" communities.
We only grow and become the best version for ourselves by waking up each day and asking ourselves, "what do we have to learn today?" "How much bigger should our vision be?" "How can we develop the tools we need to continue to understand and meet the needs of our beneficiaries?"
The private sector has disciplines and accountabilities that we have learned from and transferred in the ways that seemed productive to our organization. I could not be more inspired and grateful for their collaboration, their confidence in us, and the generous ways they placed their knowledge and skills at our disposal to learn from and grow with.
I hope that as a partner, we have exemplified shared value and helped them see that to be competitive in today's market; more is demanded and expected of companies. Their value proposition must also include investment in the planet and people towards a more equal playing field for all. Shared value must be understood as a direct motivator internally and externally. It separates, those companies whose mission and vision are completely aligned to excellence in all aspects, not only shareholder return; from those who will be left behind by a new generation of consumers & clients who will not accept less.
JCN: How many women have graduated from Barefoot College worldwide? As you label them Solar Mamas, do you have Solar Daddies? Where do you want the Daddies to contribute?
Meagan Fallone: We have trained nearly 3000 Solar Mamas across 96 countries. We have launched this year in India the Women Prosper Initiative to mobilise and train 10,000 Solar Micro Entrepreneurs/Solar Technicians over the next 5 years. Through 46 years we have educated or trained somewhere in the region of 1.3 million people across all our programs.
Raising women's voices in their family, community, country and more has always been the place that we focused. Not because we don't think men are important, but because it is the balance of men's and women's voices which creates the most robust, sustainable and durable change. Women have, for so many reasons, not had the opportunity to reach their full potential or define their own aspirations for themselves. Being in possession of knowledge and skills places them in the role of a teacher and from this, men can also learn and benefit. Patriarchal systems do not serve men well either.
Bunker Roy likes to say that "men are untrainable, restless and mobile, and given a skill will migrate to a city leaving behind his village" but I have a different viewpoint… I think we are living in a world today that has largely had men disproportionately taking decisions for us all…..… If where we are today is "the best they could do" then personally, I think it's time we try a different model that at least has 50% of the decisions being made by women. 
I will continue to lead Barefoot College towards building the capacity of women to play at least an equal and respected role in every situation that we possibly can.
JCN: In terms of strategic communications, what have been the core changes introduced to Barefoot College's way of campaigning over the last three years?
Meagan Fallone: We have tried very hard to stop continually reverting to telling the story of the past and to make strides towards telling the story of the people who are making change happen every day across 96 countries and 15 states in India. To let them have pathways to tell their stories. Barefoot College is also a community and the individuals who work both in India and around the world have such rich stories and experiences and are exceptionally dedicated, innovative risk takers and champions. I have wanted their stories to also be told as they are the substance of why we have grown and scaled with the past fully integrated and passed to the future.
JCN: Impact measurement has become a must-have in the nonprofit economy. What is your KPI and do you think people are fully aware of it?
Meagan Fallone: No, I do not think most people are aware of our KPIs or our Global Impact overall in Solar. I think we haven't done as good a job as we might have in communicating our impact, mainly because the impact of our work is deep, complex and has many facets.
Incredibly many supporters, investors and donors  actually tell us, what they want us to measure and report on. They do not ask us what we measure or what we would like to report on. It is the old story of thinking that what they think they want to know is more valuable than what we know and see every day, in complex and profound ways. People's attention is short and they want sound bites instead of a real picture of the numerous interconnected short and longer term impacts. 
Understanding real impact takes listening. It takes synthesizing many small impacts and understanding how they aggregate to large ones. It demands time. Our women beneficiaries progress and achievements, totally exceed an info graphic that gets projected on a large screen. 
How do I explain what happens to the soul of a refugee woman when she masters a piece of useful technology? The way her eyes start to shine, her back straightens and her laughter can be heard across a crowded room where a mere shell of a woman used to stand. What's the KPI for watching a human being rebuild their dignity, triumph over enormous adversity? 
We have rooms full of narratives and hundreds of thousands of real people whose lives are transformed, who have joined formal economies or affected generations of children's education towards better quality of life. They can speak eloquently on how that happened and the role Barefoot College played in that. Unfortunately, their stories rarely fit into a set of ten questions generated by a computer to be entered on line. The sector is still a long way from having a system in place that truly measures an organization's comprehensive impact. We are experimenting with some technology solutions that may eventually be linked to block chain as a means of establishing credible SROI. I think technology is the way to liberate and institutionalise measuring impact and progress so we are moving strongly in this direction. 
We are living in the moment of scale and an ever-present demand to report stats that sound big and impressive. Generally, with tight targets about a very specific activity that gets done versus really measuring changes in human behavior, habits and if we are making progress on clearing away the obstacles that inhibit people from achieving their aspirations.
In the end, this should be everyone's KPI.
JCN: The nonprofit economy is growing by day. Do you trust that the system change thinkers will do better than the scale-me-up gurus?
Meagan Fallone: As a "system change person" who believes that scale which does not catalyse a systems change, is not getting the job done; I suppose I am not as objective as I should be on this question!
I believe that in order for system change to happen, an enlightened set of partners need to come together and choose to design for change as their collective first priority. They must set aside individual objectives and needs and be willing to engage together without ego or self-interest at the fore, to design and partner for solving issues as opposed to simply perpetuating responses to ongoing problems that merely continue to create 'demand' for 'their' product or program.
The number one hurdle is the funds and the money. Too much splintered resources and duplication in the sector. I still do not see finance/investors able to grasp the scale or magnitude that must be brought behind system changers and their initiatives in order to allow them to achieve what they vision.
It's again about being willing to contribute to something larger than yourself and not need to be in front of it, maybe not even have your name on it, but knowing that your experience and your work are essential to creating a better new "Normal."
JCN: Where did you fly last, and where do you fly next?
Meagan Fallone: I was in New York, and I'm going to Singapore and Malaysia next.
Twitter Accounts
@barefootmfc
@barefootcollege
#solarmamas, #fliptheswitch, #barefootenriche
Linkedin
https://www.linkedin.com/in/meagan-fallone-a3617a48/
Facebook
Barefoot College
Next Events
International Baccalaureate Conference 2018
http://www.ibo.org/2018-global-conference-singapore/
http://www.ibo.org/2018-global-conference-singapore/speakers/
International Solar Alliance Launch Event with PM Modi and President Emmanuel Macron
http://isolaralliance.org/docs/ISA%20SUMMIT%20BRIEFING%20FOR%20MISSIONS.pdf