16

APOPO
We train rats to save lives
This NGO is Certified
Headquarters
Antwerp, Belgium
Previous ranks
Last year : 15
2 years ago : 16


Sector(s)
Health
,
Demining
- / 10 Hiring Rating
- / 10 Sustainability
- / 10 Diversity on Funding Streams
- / 10 Innovation Ratio
- / 10 Transparency & Accountability
- / 10 Independence from Governments
- / 10 Independence from Corporations
- / 10 Impact Measurement
- / 10 Audit Results
- / 10 Independence from One Funder
Official Website http://www.apopo.org/en/
Countries of operation Angola, Cambodia, Laos, Mozambique, Tanzania, Thailand, Vietnam
Countries where legally represented Belgium, Tanzania, USA, Switzerland
Country where headquartered Antwerp, Belgium
Type of organisation nonprofit
Number of employees 850
Year founded 1998
Current CEO Christophe Cox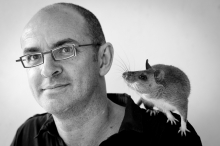 Primary contact and general inquiries APOPO vzw
Gratiekapelstraat 12
2000 Antwerpen, Belgium
03/265.40.56
apopo@apopo.org
Employment opportunities View opportunities
Mission
At APOPO, our mission is to develop detection rats technology to provide solutions for global problems and inspire positive social change.
We are a social enterprise that researches, develops and implements detection rats technology for humanitarian purposes such as Mine Action and Tuberculosis detection. APOPO is a Belgian NGO, with headquarters in Tanzania and operations in Mozambique, Thailand, Angola and Cambodia.
APOPO's innovative scent detection technology has a massive potential to relieve human suffering and promote development when deployed in TB and landmine response, as well as in other possible fields.
History
The story of APOPO truly began when Bart Weetjens, founder of the organization, developed a special relationship and appreciation for the rodents he kept as childhood pets in Belgium. Years later, this relationship would yield more than just friendship; it would offer the opportunity to help change a world where landmines pose a threat to life and progress in more than 60 countries and where Tuberculosis affects millions of lives across the world every year.
Antwerp, Belgium
No
APOPO vzw
Gratiekapelstraat 12
2000 Antwerpen, Belgium
03/265.40.56
apopo@apopo.org
16
12M | 4W
850
35
20% F - 80% M
410
410
36
95%
No
No
Belgium, Tanzania, USA, Switzerland
€6,422,413
€709,675
2017
2015
Show
full profile