"An Africa with greater unity and voice": An interview with Kumi Naidoo
Published by Brienne Ellis on
Share this post on :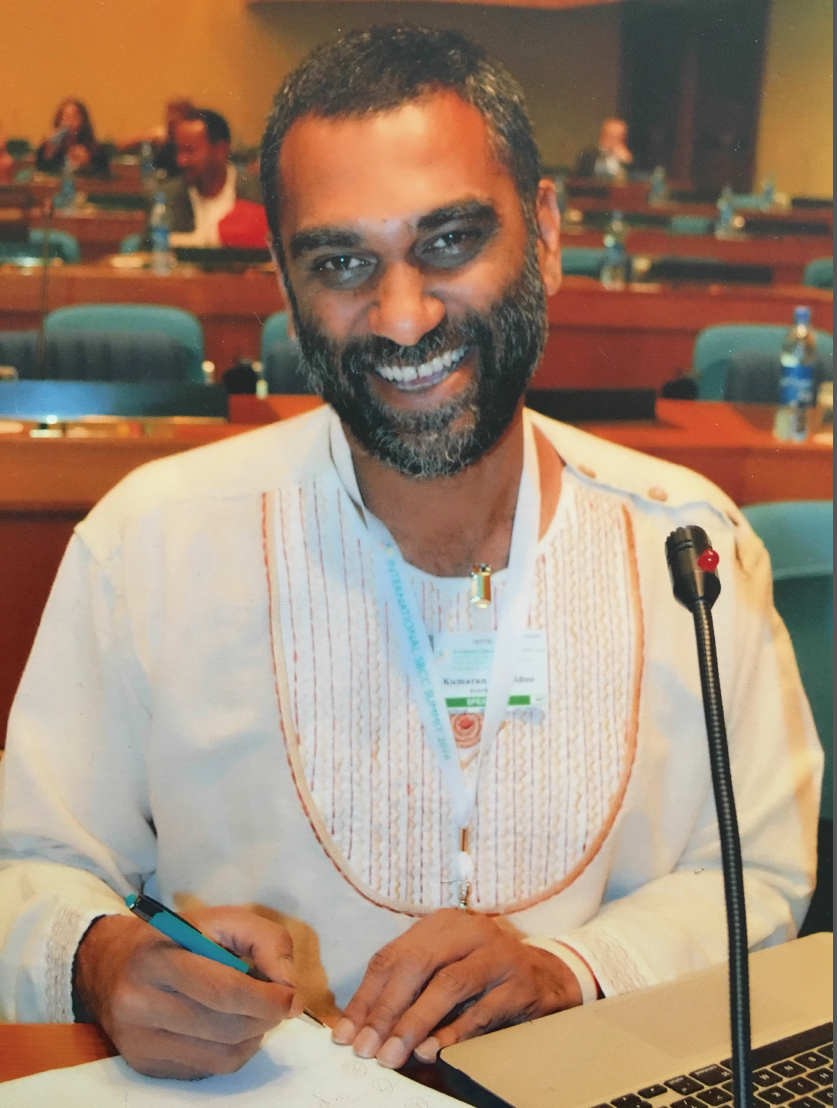 As the World Humanitarian Summit comes to an end, we spoke to Kumi Naidoo, former Executive Director of Greenpeace, now launching the Africa Civil Society Initiative (ACSI) with the support of such prestigious NGOs as Civicus and ActionAid. He reflects on the Summit and MSF's decision to pull out and then dives into his vision for ACSI and the African continent.
by Jean-Christophe Nothias | Editor, NGO Advisor
Jean-Christophe Nothias (JCN): As you look at the outcomes of the World Humanitarian Summit, what can you tell us about it? As you know, MSF announced it was pulling out of WHS two weeks ago, stating that it devolved into a "big circus" when other NGOs kept faith that the Summit could still deliver a message of unity to face today's humanitarian crises. What do you see from your window, keeping in mind that you are setting up a new project, the African Civil Society Initiative?
Kumi Naidoo (KN): The self-congratulatory atmosphere (and gender imbalanced world leaders' group portrait yesterday) was and is not enough to mask the fact that MSF – arguably the primary authority on humanitarian assistance was not present and their reasons are simple: governments are simply not doing enough to guarantee the safety and security of people in need of protection, be they refugees or victims of the several small scale wars raging from Syria and Yemen to South Sudan. Africa Civil Society Initiative (ACSI) supports the reasons for MSF's withdrawal from WH Summit. We fully agree that "States must fulfil their obligations under refugee and human rights laws. The fundamental right to claim asylum and not to be sent back into danger must be upheld by all states." It is the duty of every state to protect the people most in need, especially refugees, migrants and others whose physical and psychological wellbeing is at risk.
Indeed, as we collaboratively work to build an Africa wide initiative for justice, peace and development, ACSI is also acutely aware of engaging constructively in all available spaces to ensure the agendas we work for, are manifest for the people we serve. Sometimes this means engaging in a flawed space such as WHSummit to ensure governments commitments are indeed to uphold the rule of law for aid workers and the people they are there to protect and serve.
JCN: Could you tell me about what sparked the Africa Civil Society Initiative?
KN: For a very long time now, there has been a strong feeling amongst civil society activists across the continent that, given the fact that most of our nation-states don't make any economic, cultural, linguistic, economic, or environmental sense, it's critically important that we create greater political, social, and economic integration. Right now, we see that Africa is really weak on the global stage; part of our goal is an Africa that stands on the global stage with greater unity and voice.
We are experiencing several very negative trends on the continent. With regard to the performance and conduct of our own governments, we are seeing deepening levels of corruption, and shrinking democratic space. Further, across Africa we are facing deepening poverty and ongoing gender inequality and inequality more generally, as well as very powerful impacts from climate change. So those are the key issues of concern for the founders of this initiative.
The ACSI started as a concept in October of last year. It's important to note that there have been various attempts to create an initiative of this sort in the past, but progress was limited. Civil society networks have come and gone. So we're looking at some of the lessons to be learned from previous attempts to make sure we don't make the same mistakes. One of the things that energized us was an offer from ActionAid Denmark, which owns a training and capacity development center for NGOs in Arusha, Tanzania. They wanted this facility to be handed over to an African institution to be governed and run. Civicus: World Alliance for Citizen Participation and ActionAid International convened a meeting with various African networks where they encouraged this idea. That's how the Initiative started. I joined in February this year with the aim of engaging in a continent-wide conversation to see where the people felt there was a need for such a center, and if so, what it should do and how it should be structured and so on. We are in the middle of that process right now.
So far, there is a very strong sense that a united approach is politically important and that we need to achieve it in a different way. We must take into account that when we talk about civil society organizations on the African continent, some of the most energetic expressions of the concept are not in the form of NGOs. Instead, they're in the form of loose civil society networks and embedded in social media. The Initiative is intended to be inclusive of all civil society, but we wanted to particularly include those voices from social movements, particularly young people-driven movements on social media.
We've just had a workshop with about fifty people to develop a strategy for the Center. We're taking that strategy out for consultation in the coming days. We hope to hold a validation conference with about 250 people in the third week of August, with the view that that conference will give a go-ahead for us to launch a new movement located around the Center.
JCN: Have you been thinking about how to engage the African media?
KN: Yes, we have somebody who is very focused on that. She is Ugandan and she is working for Bloomberg Foundation in an African editors' fellowship program. In the program, 45 editors of African newspapers are in a group come together and strategize, and they have trainings and so on. She is involved in helping us think it through.
JCN: What is your view on how this new venture will be run? As you work to include informal movements, how do you ensure the quality of the governance of the overall project?
KN: Poor governance is one of the big reasons why efforts at civil society coordination have previously failed, so we are giving quite a bit of very sensitive consideration to this question. In the past, organizers would simply elect existing civil society organizations and leaders as the board members of the new initiative. Then they would find that these leaders did not have enough time to dedicate to it, or there would be conflicts of interest, and so on. We are certainly not going to recreate those mistakes.
The idea is that this will be a membership-based body and that the members will have a key role in selecting a nominations committee. We will have a very open, transparent process for people to select a board, which will be made up of civil society actors who are respected across the continent but who might not necessarily be directly associated with a specific NGO. So, for example, the board will include people who have more time on their hands, people who have a proven track record of civil contribution and respected work. All of the details of governance are still to be discussed and debated, but from the conversations we've had so far, people seem to be positive about this kind of way of thinking about it.
JCN: Have you been thinking about funding streams? To be more precise, have you been envisioning ways to become independent?
KN: This is a very important question, and again it's the matter of much conversation at the moment. We want to ensure that we develop the ASCI so that it is not dependent on resourcing from external resourcing. We recognize, however, that to set it up in the original phase might require extra support. We would like to ensure that the activities of the Center generate a proportion of the income. We are looking for new ways of resourcing, such as including the African diaspora in this initiative, because we think the African diaspora is an important ally in whatever we try to do. We also want to encourage African foundations to play a more active a role in enhancing the civil society of the continent. Ultimately, if this initiative is to work, then it needs to have quite a strong buy-in by African civil society players as well as some international allies. We don't want to build it on the basis of dependency from day one.
In terms of my own vision for it, I would say that we should have a five-year plan for this initiative to be able to be largely self-sustaining and not dependent on external funding. If we continue to think that resourcing will come from the outside, then we will continue to be dependent. Part of what we want to change here is a culture of having greater self-confidence to stand on our own feet and taking more responsibility for our own destiny. I think that with the right level of political will, we will be able to resource this in an innovative way. We want to learn from some of the ways in which civil society organizations tend to be trapped in the moment, to a large extent, in terms of how they think about resourcing their activities.
JCN: You mention negative trends, but from an outsider's perspective, this is a bit reminiscent of Afro-pessimism. Have you been discussing this issue?
KN: Well, it's a little bit mixed. Right now you've got two competing narratives. On the one hand, we have a narrative of Africa rising, which is based largely on an aggregated GDP assessment of how Africa is doing. So there's been a positive narrative. When you look at GDP growth and similar indicators, you could say, well, Africa is looking good at the moment. On the other hand, while African GDP may be rising, African people as a whole are not rising with it. In fact, we're still seeing far too many negative trends in terms of poverty, in terms of inequality, in terms of all the things that matter. To be realistic, we have seen negative developments with regard to democratic space in many, many places; we're seeing governments passing legislation to reduce what NGOs can and cannot do. GDP is rising while Africa as a continent is collapsing, based on all these negative trends.
Now, one obviously doesn't want to be unnecessarily negative in one's assessment. Positive things are happening that we can build on, but we must we respond with the creativity and urgency that the situation calls for. For instance, we have a lot of young people and a large labor force on the continent, but this is only positive if we invest in young people and make sure that they have good training and jobs. We cannot simply say, "Oh, Africa is rising and we've got these talented young people here," when we are not meeting the development needs of our youth. The youth dividend, which is talked about in very benign terms, may actually become a youth challenge if we don't invest properly in young people.
The frame that we are using for the ACSI is "Africans rising for justice, peace, and development." We use this frame quite consciously: we want to change the narrative that GDP assessments are adequate in themselves. That said, I doubt you can find anyone who disagrees that the outlook for the continent does look dire, especially as climate impacts start having more and more negative impacts. We can't sugarcoat it. Things look dire. We are seeing more and more conflict. We are seeing climate-induced desertification and drought, and it is happening much faster than many predicted it would take. We are seeing climate impacts from migration to conflict to the collapse of agriculture. So just to be very clear: climate impacts are on us already. It's not as if we're waiting for it to happen some time in the future.
JCN: When you discuss these many issues, do one or two issues jump out at you as more important than the others? One might worry that with so many topics of interest, you might not be able to address each of them well.
KN: Yes, yes, yes. The ACSI recognizes that there are a lot of people on the ground doing important things, often in difficult circumstances, some doing pretty heroic work. To be clear, it is our intention to strengthen the existing initiatives, not to replace them. But in terms of focus, so far our feeling is very much that we need to address the issues that affect civil society more generally. We are focusing on six major issues: shrinking democratic space, which affects all the efforts of all civil society organizations; climate impacts; deepening poverty and inequality; corruption; and gender equality, which we can no longer treat as a sectoral issue. To speak to gender equality in particular, we must stop assuming that women's organizations will take care of it because the pervasiveness of gender inequality is a major factor in terms of Africa's overall growth path. While it may sound like there are a lot of issues on the table, these are the cross-cutting issues. If we don't get these issues right, if we are not able to crack them and find a way to address these issues meaningfully, then we will not be able to advance.
We don't think that we'll take up all these issues exactly with the same level of intensity. Having said that, we are in a listening mode at the moment. We don't want to pre-judge the importance of the issues. Because with an initiative like this, the process by which you try to set it up is as important as the content of what you're trying to do. We want to make sure that whatever we create is what people want, not what some people think. So yes, I think that not biting off more than we can chew is going to be a perpetual challenge. But an even greater challenge for an initiative like this – and I've done this before with organizations, like Civicus at the global level – is to ensure that what you're trying to do is build on what is there, strengthen what is there on the ground already, push the limits of what is currently on the ground and not be constrained by it, be willing to push the boundaries of thinking and practice. Ultimately we hope that our activities do not start to slow. We'll ensure that the content of ASCI is that which affects civil society generally on the continent and those areas where people need the involvement, participation and support of other civil society actors who are outside of their own geographical space. One of the problems we're dealing with at the moment is that when there is an issue in Burundi, it takes days before you hear from a civil society voice from Africa, but you'll hear statements from folks in the U.S., in Europe. It's not as if people are not concerned. So part of what we want to do is create a culture of deeper solidarity.
Dr. Kumi Naidoo is currently serving as Launch Executive Director to the African Civil Society Initiative (ACSI), an ambitious and evolving new initiative seeking to unite civil society across the continent around the issues of corruption, shrinking democratic space, climate change, poverty and gender inequality. Former Executive Director for Greenpeace International, Naidoo now serves as SACFEI ambassador and also as a Board member for 350.org and the Global Greengrants Fund. Naidoo has campaigned on issues ranging from apartheid at the age of 15, to adult education and violence against women.